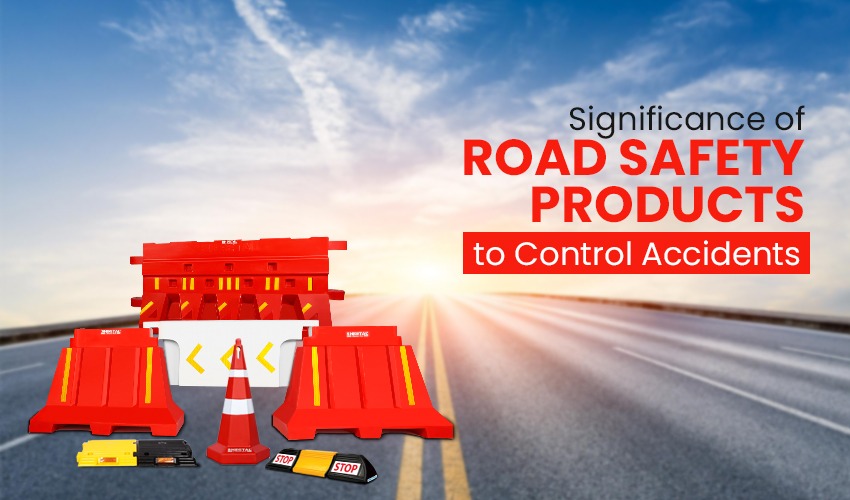 A recent study found that in UAE there were over 11,567 road accidents in a year. Even though UAE has fewer number of the world's vehicles, it accounts for more than 0.01% of all accidents worldwide. This is because the roads safety is seriosly taken. Although sometime people do not follow traffic rules and speed limits. Furthermore, there is very smlittle infrastructure built to ensure pedestrian safety.
Road safety products, such as safety barricades, security barriers, plastic speed breakers, and traffic safety cones, can prevent road fatalities, say experts. Other than reducing fatalities in road accidents, road safety products have a number of benefits. Traffic flow is streamlined when road safety products are in use. They can prevent traffic congestion as well.
How can accidents be prevented using traffic barricades?
Traffic barricades can prevent accidents in many ways:
Pedestrian and traffic flow can be improved with safety barricades. A safety barricade can demarcate a lane into several smaller lanes - each for a specific type of vehicle. Lighter vehicles can use one particular lane while heavier vehicles, such as trucks and buses can use another. There can be separate traffic barricades for pedestrian movement as well.
By using traffic cones, pedestrian crossings of thoroughfares can be delineated without requiring separate infrastructure, such as an underpass or a service lane. Building an underpass or a pedestrian footbridge is not always easy. The process usually involves funding and securing the necessary permissions.
Plastic speed breakers and other traffic safety products slow down cars and other vehicles. Thus, civic authorities are no longer required to install concrete speed breakers, and can opt for plastic speed breakers, whose prices are much cheaper than those of concrete speed breakers. Additionally, such a speed bump can be installed anywhere and removed when needed. As a result of this flexibility, costs can be reduced and traffic can be managed within the limits of the resources the civic authorities possess.
Road crash barriers are also an important road safety product. By slowing down the vehicle when it crashes into the barrier, these barriers distribute the vehicle's force in such a way that it suffers less damage than if there were no barriers.
Safety barriers can also teach valuable lessons about road safety. Several countries in the world have dedicated specialized days for pedestrians. On these special days, road safety campaigns and road safety education can be conducted at several key crossings in the city, where security barriers for pedestrians can be put up. Traffic volunteers, bearing placards, can stand at these crossings and educate the public about road safety and the right of pedestrians to use roads.
Diverting traffic with road safety equipment, such as traffic cones, can also be useful. Diversions are often necessary when there is an accident or construction activity is in progress. These are often temporary measures that need to be taken. As such, it is often difficult to come up with concrete structures. Traffic cones can easily create diversions and help to prevent traffic congestion.
How traffic safety cones help in controlling traffic flow?
Traffic safety cones are conical plastic traffic safety structures that can be installed at any portion of the road and can serve a wide range of purposes. Here are some of them:
Traffic safety cones are flexible and can easily be placed and dismantled at will.
They can redirect commuters and motorists in another direction in a safe manner.
Not just outdoors, but safety cones can also be used indoors to demarcate a particular area that is out of bounds for people.
These safety barricades can easily be used during night time as they have high-visibility that can be observed from a distance.
Traffic cones can also work as signage, warning approaching commuters or motorists of the danger ahead. Typically, such cones come in handy at accident sites and construction sites.
Such cones are far more economical than concrete barriers, which are heavier and more expensive. Unlike plastic cones, concrete barriers have to be transported to the site via trucks that can significantly add to the expenses.
Why you should Invest in Safety & Protective Barriers?
Security barriers today can be used in a wide variety of spaces that can be both outdoor and indoor. Whether you are a civic body, or a hotel or a stadium or a school, you can put road safety equipment to good use. There are plenty of reasons why you should think of investing in quality traffic safety products. Here are some of them:
Improve road safety: With our roads being so unsafe, it is important to install these traffic safety products to improve road safety. Safe roads not only save lives, but they also lessen congestion.
Better organization: Certain safety equipment like low profile barriers and security barriers can demarcate certain areas for specific purposes. Schools can install them in their playground to assign different portions of the playground to different classes. Shopping malls and hotels can install them in their parking spaces that can help cars and other vehicles to move freely without creating congestion.
Reduces road fatalities: Every year, thousands of pedestrians die while crossing a road. Traffic barriers when used judiciously can help in reducing road-related accidents.
Flexible and cost-effective: Governments around the world spend a fortune in installing expensive concrete barriers. Some even create permanent structures like footbridges, underpasses for smooth movement of both traffic and pedestrians. Unfortunately, many such permanent structures lie unused because they are not put with proper planning. Plastic safety barriers are cheaper as compared to concrete road safety infrastructure.
Road Safety Equipments Supplier in UAE
Road safety is the need of the hour. With increasing traffic on the roads, governments and private agencies must make our roads safe for pedestrians. Instead of expensive concrete infrastructure, one can invest in cheaper plastic road safety products that are easy to install and dismantle.

Al Bahri Hardware and Safety Equipment is top safety equipment supplier in UAE dealing with all kinds of road safety equipments in UAE since 30+years. Our road safety equipment is the best in the industry. Our products include road safety barriers, plastic speed breakers, corner guards, traffic safety cones and related items.

Our road safety products are used in a wide variety of public spaces, including roads, parking lots, entrances and exits of schools and hotels and playgrounds. Our products not only ensure that roads are safe but they also make them more organized and streamlined.
Related Posts
0 Comments