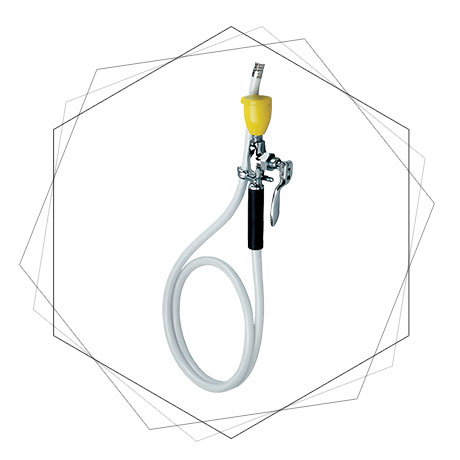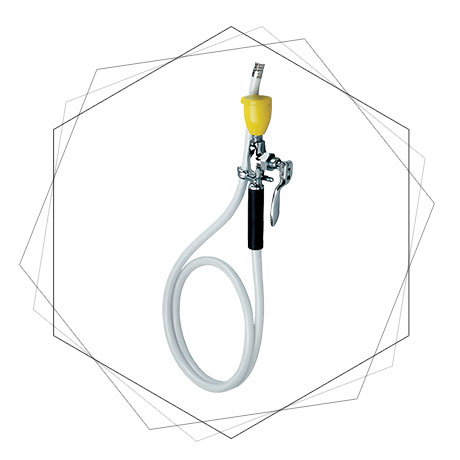 Wall-Mounted Drench Hose

---
Wall-Mounted Emergency Drench Hose

The Eye saver Drench Hose features a wall-mounted installation and a single aerated spray head for eye.

Single spray head
Wall-mounted
6-foot long hose
1.5 GPM at 30 psi
Vacuum Breaker
---
Detail
Wall-Mounted Emergency Drench Hose

The Eye saver Drench Hose features a wall-mounted installation and a single aerated spray head for eye, face or body flushing. Includes a 6-foot reinforced hose for flexibility.

The Speakman Wall-Mounted Emergency Drench Hose is a reliable safety fixture that provides quick and effective eye, face, or body flushing in case of an emergency. The single aerated spray head and 6-foot reinforced hose offer flexibility in directing the flow of water for targeted flushing.

This emergency drench hose is wall-mounted, making it easy to access and deploy in an emergency. The 1.5 GPM flow rate at 30 psi ensures that there is adequate water pressure to effectively flush out any hazardous materials that may have come into contact with the eyes, face, or body.

The vacuum breaker included in the design prevents backflow and contamination, ensuring that the water is clean and safe to use for flushing. This safety fixture is manufactured by Speakman, a trusted brand in the industry, ensuring that it is made from high-quality materials and designed for optimal performance.

This wall-mounted emergency drench hose is perfect for laboratories, manufacturing facilities, and other industrial environments where hazardous materials may be present. Its compact design and ease of installation make it a convenient and effective safety fixture.
1.

Free Shipping & Return

We offer free shipping for products on orders above AED 1000 and offer free delivery for all orders in Dubai.
2.

Free and Easy Returns

We guarantee our products and you could get back all of your money anytime you want in 30 days.**T & C Applies
3.

Special Discounts for Bulk Order

We are providing unbeatable discounts and offers for whoelesale or bulk orders
Wall-Mounted Emergency Drench Hose
Submit Your Review
Share your thoughts with other customers